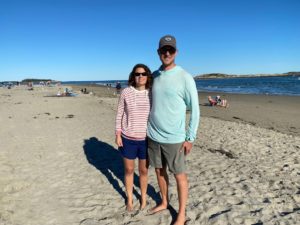 Merrymeeting Clay (MMC) is a small ceramics studio located on Merrymeeting Bay in Bath, Maine. I started MMC with my partner, Jackie, who is a lifelong visual artist and professor. While we work together coming up with new ideas, I design and build all of the final pieces for MMC.
I believe that the objects we surround ourselves with have a direct impact on the quality of our lives. I want my home to be a place where even simple objects like bottle openers reflect what I find beautiful and inspirational. As a lover of nature, I see the beauty of the natural world every time I leave my home. As a designer, I am driven to incorporate this into my work.
This is the motivation and mission behind Merrymeeting Clay—to borrow designs from nature to create sculptural forms and everyday objects that reflect the natural beauty all around us. 
While we are actively expanding the diversity of objects we produce—ranging from small bottle openers to larger sculptures and newer work involving 3D printing—our process always begins with natural forms that we find enticing, like lobster claws, richly textured driftwood, or horseshoe crab shells, as below. 
We then create a high quality mold of the form we are working with. This allows us to preserve all the fine details of the form so that we can recreate and re-purpose them using clay. 
We use our molds with a variety of porcelain and stoneware clays and add a variety of glazes and sometimes attachments too. Like our New England Claws, which are made from molds of Maine lobster claws epoxied to a bottle opener or bottle stopper.
We want each and every object we make to be someone's favorite. One that brings a smile with each use…and maybe starts a conversation too. 
Want to learn more? sign up for our newsletter below!
Located in Bath, Maine, USA